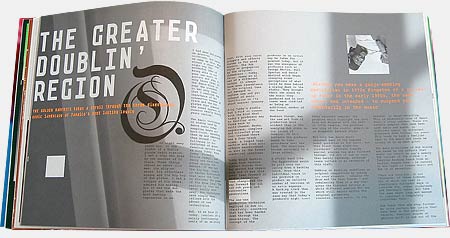 It's funny who you meet when you're out getting your morning coffee. Firstly, I bumped into Kittser who seemed to be up and about at a fairly unusual hour of the day. It turns out that the workmen were in his gaff, banging about the place, so he upped sticks and was heading for breakfast when I met him. As we stood chatting on the corner of Andrew St and Wicklow St we caught two people waving over. It was Mattie and Emelie from M&E. I ran a few of my ideas over with the assembled but all seemed suitably unimpressed with everything I threw at them. These creative types would do your head in. I guess I'll have to complete my domination of the Dublin music scene without their help. Kittser has started an evening called The Goof-Off every Wednesday evening upstairs in Whelans. Although it's only being going a couple of weeks its already had a guest appearance by Matmos. It should be worth checking out if you're about town on a Wednesday night. It kicks off at 11.30.

On my return to the office I had an e-mail about the upcoming DEAF festival. That's all I know about the contents of it because the bloody message was blocked by my work firewall because of a graphic attachment. The DEAF festival will be on again this coming October and you can read all about it over on Jim's blog. Over on the DEAF site they're looking for heads to help out with the upcoming festival. Give a little, it will help a lot. When I was on their site I managed to find a photo of a piece I wrote in 2005 for the accompanying festival publication (see above). Nice one.

Yesterday the astral radio in my head picked up the tune 'You can call me Al' by Paul Simon. I was singing it all day and again when I woke this morning. The tune entered the UK charts in 1987 and I always enjoyed the accompanying video that featured Chevy Chase and a very bored looking Paul Simon. Today I found the tune in Spindizzy Records on seven inch. Fate dictated that i buy it. I love it.

Finally, I was reading the Cheebah blog today and it mentions a feature by Paul Tarpey in the Copenhagen magazine BitchSlap. The magazine reminds me a lot of the stuff that's being done by Candy Collective and the piece by Paul on DJ Cait is especially good. Check it.