Making my merry way about the city of dublin ths afternoon I made my way into Big Brother Records. I had entered just as a selection of old rave classics were being played in the shop. Some goofer had finally taken the box of musty Dublin early nineties techno classics out of his attic/garage and sold them. Some of the tunes really brought me back to a very carefree time in my life. Moby's 'Go' was blasting through the speakers. It brought memories of dodgy raves in dodgy venues around Dublin. Great stuff. When the rave nostalgia trip came to an end I spotted a 12" by Jape on the shelf. It was a newly remixed 'Floating' on Adam Freeland's 'Marine Parade' label. As I'm not a great fan of 12"s these days I enquired if there was a version on seven inch. Lo and behold there was. It features a remix by Son Green who happens to be an all round nice guy. Don't let the beard put you off.

I also managed to pick up some other sevens today and they are in no particular order:

Listening Man by The Bees. If I didn't know that it was newly released I'd mistake it for some classic soul from the late fifties. It's unbelievable. It's a nice simple tune with some layered harmonies that trundles along at grooving pace and would not be out of place on any stereo. To think that these guys are from the Isle of Wight. Fair fucks to The Bees. Listen to it on their MySpace

It's not over yet by The Klaxons. Little did I realise that this was a cover of the Paul Oakenfold penned handbag classic released on Perfecto Records in 1995. I didn't like the tune then and i'm not much into The Klaxons version. You can paper over the cracks, but the foundations remain the same. You can make your own mind up by checking it out on their MySpace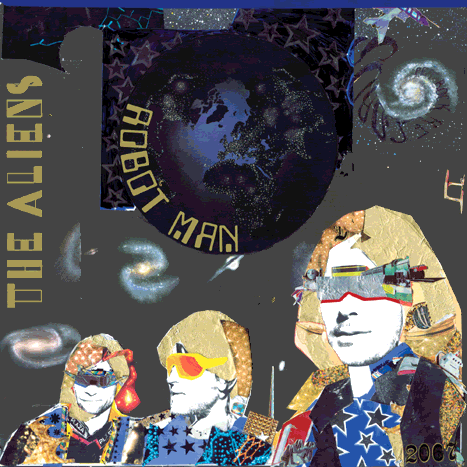 Robot Man by The Aliens. I was only banging on about this band recently here. The seven inch has a Hot Chip remix on the b-side which I haven't managed to check out yet. The tune itself is a nice breezy pop tune that should get plenty of airplay.

I've also come across three albums in the last few days which are all great. They are 'Icky Thump' by The White Stripes, 'Neon Bible' by Arcade Fire and 'Because of the times' by King of Leon. I know what you're saying. They're all out ages. I know but i'm busy buying and listening to seven inches so I rarely get around to buying the albums. I'll endeavour to try harder in future.